Whether a large or small business, large-format printing is essential to your print marketing materials. Large-format printing allows you to further expand your brand awareness by creating marketing materials that capture attention from near and far.
Many businesses often overlook the power of large-format printing, thinking they're not applicable; however, you don't need a special promotion to get one. A large-format print, like a banner, can be used for everyday business or seasonal commerce decoration.
What is large-format printing?
Simply put, large-format printing is printed materials bigger than other standard-size prints or more minor. A standard-size print may consist of sell sheets or flyers, whereas a large-format print can be a banner that stretches above a storefront. Large-format prints require a wide-format printer or plotter greater than 18" wide.
Additionally, large-format prints use different materials than paper, such as aluminum, canvas, plastic, or vinyl. Depending on the intended purpose, a print may sit outside for prolonged periods, so durable material is required.
Large-format prints are often used to promote a business, whether everyday operations or special promotions. A large sign next to a road will naturally catch people's attention as they drive by, which can be especially helpful if your location isn't ideal.
How Businesses Use Large Format Printing
There are many effective ways to use large-format printing within a business. Here are some ways you can use large-format prints for your business:
Promotional Signs (Indoor & Outdoor)
Are you running a special sale? Inform everyone who walks or drives by your store about the discount they can get and where to find it.
Vinyl Banners
Hang up a vinyl banner outside that promotes your business while being able to withstand the weather and the elements.
Foam Core/Foam Board Printing
Create a sign that lasts forever and can be used daily in your business.
Coroplast Yard Signs
Create several coroplast yard signs that direct customers to your store or promote your business after servicing a home.
Posters
Posters are still one of the best ways to attract and inform others about your business
Other Large-Print Applications
Fine art prints
Wall decals
Large stickers
Canvas prints and banners
Tradeshow backdrops
Blueprints, site plans, architectural drawings
Window clings
Vehicle magnets
Clever Ways We've Seen Large Format Printing Used
There are numerous creative ways to use large-format printing for your business outside typical prints. At Orbit Press, we've printed a window shutter for a house used for real estate photos. Additionally, we've created fun or elegant large-format prints for restaurants and bars, typically posted on walls for patrons to view while waiting for a table.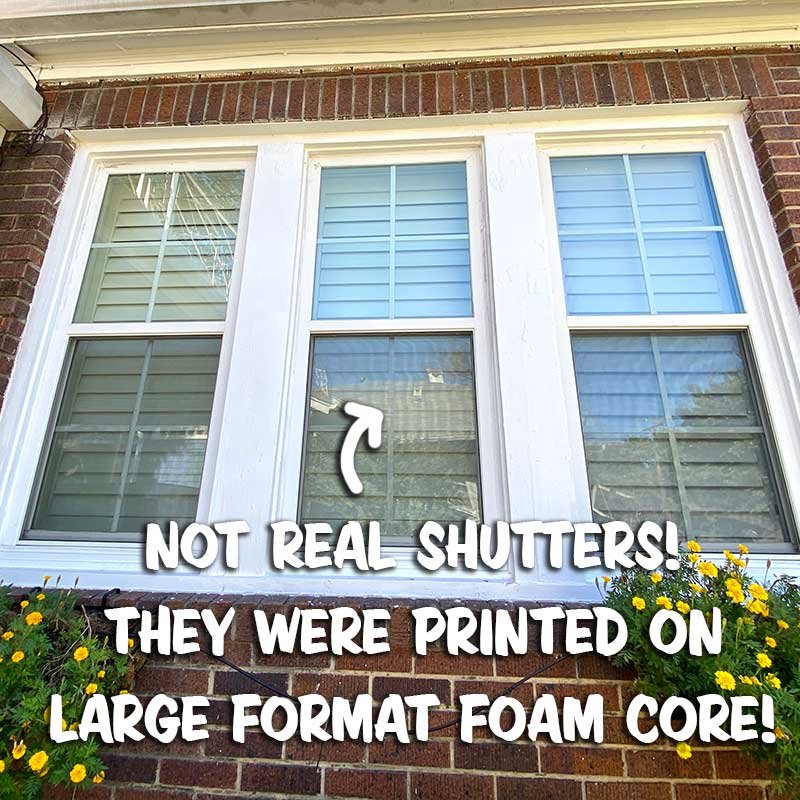 Coroplast signs with a logo can work great for branding chalk marker signs for businesses that frequently change items.
You can even get a large-format print that acts as a temporary privacy wall or create a logo backdrop for capturing "Instagrammable" photos!
Large-format prints are effective marketing materials that help promote your business so that you can focus on managing everyday operations. These prints tend to be more pricy than other prints due to their size, making the costs start to stack up after shipping.
To help save as much money as possible and still get a perfect large-format print, we recommend checking for a local print shop that prioritizes quality. These marketing materials will live on with your business for years, so don't go for the lowest price to save money right now. Give yourself the upper hand, create a concept for a large-format print and bring your idea to your local print shop.
If you need help printing in a large format, we'd love to help. Request a quote.